Vision
"A world in which every human being's life is equally valued irrespective of caste, gender or economic status"

Mission
"Making healthcare services affordable and accessible for rural communities across India by leveraging technology"

Goal
Set up 100 DigiSwasthya centres in PAN India across all aspirant districts in India impacting more than 1 crore people and make Digiswasthya people's most trusted healthcare partner where they will get the right direction, information, and diagnosis for their issues.

Awareness Campaigns
We have started awareness campaigns in villages, first we discuss with the Sarpanch where we try to get him on board with our cause and the benefits the members of their town will gain from this. The Sarpanch then schedules a day where he can inform the villagers about the campaign drive.

Accurate Information
We provide correct information about their diagnosis, and the existing schemes of GOI and the organizations that help for patients' treatment- Cancer, Kidney transplant, Bone Marrow Transplant, Blood Cancer and any critical surgeries or treatment. We also ensure that the Patients are referred to the needful specialists and associated hospitals.

Electronic Medical Record
We generate Electronic Medical Records for everyone to keep track of their health. The government district hospital does not have this facility to keep a track of each and every patient via EMR. We provide access to every patient to check their reports and the prescription. They can also avail all the information online. This is extremely helpful and can save a significant amount of time for both the patient and doctor when the patient moves to another hospital for treatment.

Primary Health Check-Up
Under this division comes recording the blood pressure, pulse rate, weight, height, and temperature. It generates a report for body status: BMI, Hydration, fat, Muscle quality, bone mass, visceral fat, metabolic rate and age. This data and case history is then fed into the electronic medical record generated.

Expert Opinion
With patients who suffer from critical, advanced or rare diseases, we consult with specialist doctors and expert opinions for their understanding of the disease, its diagnosis and treatment. There is a facility for every patient to get an expert opinion for their health from Mumbai, Delhi, Bangalore, Ahmedabad and other cities. They are thus given a platform for individual consultation with the experts even if they are not physically available in their areas. Special care is given to the patient.

Timely Diagnosis
Generally in Sant Kabir Nagar, the patients have a tendency to shift from one doctor to another doctor as well as clinics and hospitals. They move from one district to another for better treatment care and support. At DigiSwasthya, we want to provide a one-stop for our patients. We aim to guide them in relevant tests for the right diagnosis, once the diagnosis is confirmed, treatment can be initiated. If posed with critical issues, we refer them to an expert hospital so that they can save a great deal of time and get the right treatment.

Referral Pathways
DigiSwasthya provides referral pathways to patients with critical issues for their best treatment care and support. We have referred 13 cancer patients to the expert treating centres such as Tata Memorial Hospital, Mumbai, Apollo hospital, Ahmedabad, KGMU, Lucknow, and Homi Bhabha Cancer Hospital, Varanasi.

Follow-Ups
DigiSwasthya does timely follow up of each and every patient to get the status of their treatment and health. It gives a better understanding to track their health and provide them further guidance.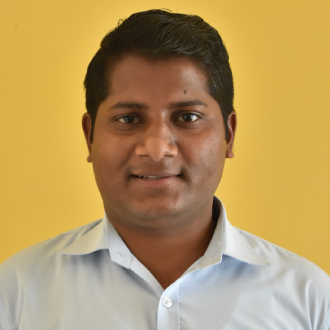 Sandeep Kumar, the founder of Digiswasthya, was diagnosed with Ewing-Sarcoma in 2007 (a type of bone cancer) where his whole right-humerus bone was replaced. In the initial phase, he wandered from one hospital to another but did not get the right diagnosis due to lack of qualified doctors and under-equipped hospitals in Sant-Kabir-Nagar, a small district in Uttar Pradesh, a state in India. Lack of access to guidance on what needed to be done added to the worries of Sandeep and his family. After 6-months, he finally got a biopsy done and was diagnosed with Ewing-Sarcoma. Doctors believed Sandeep would have become immobilized if the diagnosis was delayed by a few days. 
In the next few months, Sandeep recovered slowly under the treatment of doctors at Tata Memorial Hospital, Mumbai, one of India's tier-1 cities. However, the journey from being completely clueless as to what was the cause of his ailment to being detected with Cancer to gradually recovering was nothing less than a miracle for Sandeep and his family. Sandeep was determined to give back to society and started working with multiple social-sector organizations (health sector) in 2015. Over the next few years, Sandeep devoted himself to work for hundreds of cancer patients, survivors, and their families, providing them guidance, emotional support, financial support for their diagnostics, treatment, care and education. 
While Sandeep's work created a positive impact on the lives of several patients, he realized that his ultimate calling was to go back to the grass root and address the challenges from where they initiate, i.e villages where there is a lack of awareness of health issues and lack of access to healthcare professionals. Sandeep took a break from his job and started conceiving an idea around how leveraging technology can address the challenges he had identified and make primary healthcare affordable and accessible in rural areas, where more than 70% of India's 1.4 Billion population live. After numerous interviews with people living in these areas, discussions with senior administrators of India's biggest hospitals, professors and government officials, evaluating other developing nations are taking the problem, Sandeep conceived the idea of DigiSwasthya (Digi=Digital, Swasthya = Health). Sandeep invested most of his savings till then to establish DigiSwasthya's 1st E-telemedicine clinic in June 2020 in his home district, Sant Kabir Nagar. 
By creating a full-stack primary healthcare platform, from creating a safe and hygienic physical space for patients to come to hiring trained nursing staff, to tying up with doctors from prominent city hospitals, to onboarding a telemedicine software and hardware, to getting prescriptions fulfilled from vicinity pharmacies, Sandeep created one of the state's 1st hybrid medical consultation facility.
By creating a network of such standardized clinics across India, Sandeep and his motivated team are on a mission "to transform the country's primary healthcare system and make healthcare services affordable and accessible for rural communities by leveraging technology".